NATURAL COLD & FLU DEFENSE
HOMEOPROPHYLAXIS
Flu Season Is Here – Protect & Treat Yourself, Safely!
Clinical evidence suggests that the homeopathic remedy Anti-Cold-n-Flu in the 30C potency is safe AND effective at warding off colds, flus & more. Before you say YES to a flu shot, which has been linked to reports of inefficacy, fatigue, heart attack, cancer, dementia and deaths, why not try homeopathy FIRST?
And if you get the flu or other respiratory infection, please call us for an acute consultation. Homeopathic treatment works rapidly and safely.
Fact of Interest:
MRSA is linked to the widespread overuse of antibiotics
Tamiflu and antiviral drugs lower your resistance to infectious diseases
All vaccines and drugs have chronic long-term adverse health effects
The only side effect of homeopathy is good health!
READ OUR BLOG: "Our Natural Immune Boosting Protocol"
---
What is HOMEOPROPHYLAXIS?
Homeoprophylaxis comes from a combination of words:
"homeo" (from homeopathic, or similar suffering) +
"prophylaxis" (action taken to prevent disease, especially by specified means or against a specified disease)
Homeoprophylaxis remedies are remedies used to BOOST the immune system against specific pathogens, such as influenza, shingles, measles, malaria or leptospirosis, to name a few.
---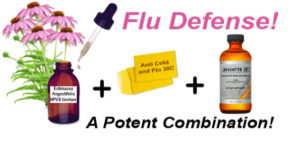 ORDER YOUR COLD/FLU DEFENSE COMBO TODAY!
Bundle and Save!
Receive a 15% discount when you buy 2 or more parts of the Immune Boosting Combo. Learn more about each part:
Influenza Mix 30C– made from 3 different flu virus strains, then potentized into a beneficial homeopathic remedy. Some people find this one works better for them than the Anti-Cold and Flu Mix. Experimentation will be the best way to discover which works best for you.
Regular Price: $21
Anti-Cold-N-Flu Mix 30C – made from 100's of different strains of cold, influenza, pneumococcus, etc, viruses. Some people find this remedy works better for them than the Influenza Mix. Experimentation will be the best way to discover which works best for you.
Regular Price $21
Colloidal Silver (Silver Hydrosol) – Silver has powerful anti-microbial effects, it empowers the immune system and supports the body's innate healing process. Taken in teaspoon sized doses, several times daily for infections of all kinds – viral, bacterial, colds, flus, tooth infections, etc.
Regular Price, 4oz: $35, 8oz: $55
Echinacea Angustifolia Tincture – An immune boosting tincture used for infections of all types, made from Purple Cone Flower. A herbalist stable for 100s of years.
Regular Price, 2oz: $25, 4oz: $45, 8oz: $86
The great thing about all of these remedies is the very long shelf life. One bottle of the tincture or colloidal silver (keep away from EMFs) will last for years without spoiling. Homeopathic remedies, if properly stored, will last for years, too.