A FORCE TO BE RECKONED WITH
Blog by Manfred Mueller, MA, DHM, RSHom(NA), CCH

It was still quiet on the mountain. The sun was not up yet, and we were moving around the house with the help of night-lights and a very bright LED flashlight. There was no sound until, suddenly, the hooting of an owl.
I was looking out the window. A faint light was now appearing over the black mountains. Several long streaks of what looked like vapor trails from airplanes stretched across the skies. They were just barely visible in the dawning of a new day. I counted nine criss-crossing the whole sky. But unlike vapor trails, or condensation trails, these streaks were lingering, spreading out broadly. By noon they would make for a hazy day, and by tomorrow, it would probably rain again.
Read more of this poetic blog by Mr. Mueller!
---
Pre-Order Your Copy of Homeopathic Cancer Drugs: Oncology Materia Medica By Our Very Own Homeopath Manfred Mueller!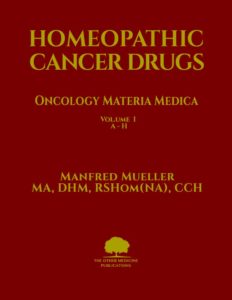 Homeopathic Cancer Drugs: Oncology Materia Medica is a ground breaking new homeopathic book that is the first materia medica to gather all the available remedies used to treat cancer and put them into one work!
Learn more & PRE-ORDER your copy!