Up to 23.5 million Americans suffer from autoimmune diseases and the prevalence is rising!
Pictured: Autoimmune diseases that can root from specific areas of the body.
Greetings Clients and Friends,
There's a lot of information out there about auto-immune disorders, but I bet you haven't heard about this: When foreign substances, such as mercury, aluminum and other toxins, invade human cells, the immune system can mistake these cells as foreign invaders. The resulting "train wreck" is antibodies that are produced BY YOUR BODY, AGAINST YOUR BODY.
How can you overcome this seemingly insurmountable problem?
Reduce your toxic load by eating a clean, organic diet
Remove toxins from your home and your personal care routine
Antidote the effects of past medications through homeopathic measures, aka The Mueller Method™ of Homeopathy
Remove your heavy metal burden through gentle oral chelation measures
Have constitutional homeopathic treatment by a professional homeopath
Use symptomatic homeopathic treatment as needed for colds, flus, accidents and injuries, diarrhea, fever, headaches, rashes, stings/bites, etc!
We work over the phone if you can't find anyone to help you locally!
Best of Health,
Manfred Mueller, MA, DHM, RSHom(NA), CCH
and our amazing Clinic Staff
Free 15 Minute Phone Chat    Get Started with Treatment
---
RECENT TESTIMONIALS
MULTIPLE SCLEROSIS SYMPTOMS REDUCED WITH HOMEOPATHY!
"…I FEEL better because Dr. Mueller's treatment. I am very grateful for his treatment and knowledge he has in this, and I look forward to more healing with his treatment and guidance. He knows what needs to be done to heal these symptoms. He listens to each patient's individual needs and symptoms. He's the best I've met… "
Beau B.
Florida, USA
---
BLOG: HOMEOPATHY – GENTLE MEDICINE FOR NATURAL HEALING
"What is homeopathy? It's infinitesimal. It's powerful. It's gentle and it's curative. Homeopathy can alleviate common ailments like PMS, erectile dysfunction, depression, low energy levels, and teething complaints, as well as complicated chronic diseases such as chronic fatigue syndrome, Crohn's disease, autism, heart disease, cancer and countless symptoms which have no classification."
---
THE MUELLER METHOD™ HEALING AUTOIMMUNE DISORDERS NATURALLY
The Mueller Method™ of Homeopathy is a powerful, yet side effect free tool to increase healing times and remove unwanted symptoms and complications due to autoimmune diseases and the complications associated with their treatment. Utilizing classical homeopathic remedies, clearing remedies and remedies that directly address the symptoms, drug side effects and other complications, this protocol stimulates the body's self-healing mechanisms to repair itself, moving the body out of the perpetual state of dysfunction, healing the tendency for the body to attack itself and restoring normal immune function.
---
HOMEOPATHIC CANCER DRUGS: ONCOLOGY MATERIA MEDICA (2nd Ed.)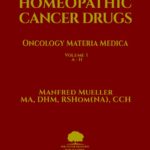 Homeopathic Cancer Drugs is the first clinical materia medica written specifically with the homeopathic oncologist in mind. It contains every fact the homeopathic cancer specialist needs to know in order to treat cancerous pathologies safely, and with a higher degree of success.
Homeopathic Cancer Drugs contains over 600 remedies and is the most thorough reference work on homeopathic cancer drugs to date. It lists all drugs that have ever been used for the homeopathic treatment of cancer either in clinical practice, case studies or compiled from more than 100 years of homeopathic literature!
---
HOMEOPATHY IN THE NEWS
STUDY: ANTIBIOTICS INCREASE RISK OF IBS AND CROHN'S DISEASE IN CHILDREN IN LATER LIFE
"Research has shown children given penicillin and similar medicines are more at risk from irritable bowel syndrome and Crohn's disease. Those prescribed penicillin and similar medicines are more at risk from irritable bowel syndrome (IBS) and Crohn's disease. Scientists believe the drugs may encourage harmful bacteria and other organisms to grow in the gut, which trigger the conditions. A research team looked at 580,000 children over an eight-year period and examined records of their prescriptions and medical history."