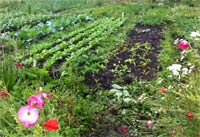 What's better than ORGANIC or BIODYNAMIC farming alone? Why, AGROHOMEOPATHY, of course!!
What is Agrohomeopathy?
Agrohomeopathy is the specialized area of homeopathic practice used to treat your garden and agricultural. Agrohomeopathy is the most chemical free, non-toxic method of growing food and other crops that you can get. Agrohomeopathy makes your plants resistant to disease and pests by strengthening them from the inside out. In nature, it is the weakest of organisms that are attacked and destroyed. Agrohomeopathy helps build up the plant's basic structure and gives it optimum health, thus reducing and sometimes even eliminating it's susceptibility. And the skeptics can't blame THESE effects on placebo, can they?!
More benefits of Agrohomeopathy
One of the reasons crops are fertilized is to make them absorb more nutrients. However, we never consider that the plants may need additional help being able to absorb the nutrients already present. A properly selected homeopathic remedy can do just that – help increase the nutritional absorption of the plant making them stronger and making them produce truly nutritious food – the way it was meant it to be!
Farming without Pesticides