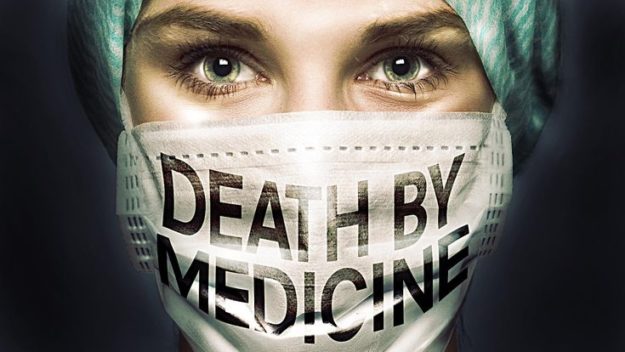 By Gary Null, PhD; Carolyn Dean MD, ND; Martin Feldman, MD;
Debora Rasio, MD; and Dorothy Smith, PhD March 2004
---
Natural medicine is under siege, as pharmaceutical company lobbyists urge lawmakers to deprive Americans of the benefits of dietary supplements. Drug-company front groups have launched slanderous media campaigns to discredit the value of healthy lifestyles. The FDA continues to interfere with those who offer natural products that compete with prescription drugs.
These attacks against natural medicine obscure a lethal problem that until now was buried in thousands of pages of scientific text. In response to these baseless challenges to natural medicine, the Nutrition Institute of America commissioned an independent review of the quality of "government-approved" medicine. The startling findings from this meticulous study indicate that conventional medicine is "the leading cause of death" in the United States .
The Nutrition Institute of America is a nonprofit organization that has sponsored independent research for the past 30 years. To support its bold claim that conventional medicine is America 's number-one killer, the Nutritional Institute of America mandated that every "count" in this "indictment" of US medicine be validated by published, peer-reviewed scientific studies.
What you are about to read is a stunning compilation of facts that documents that those who seek to abolish consumer access to natural therapies are misleading the public. Over 700,000 Americans die each year at the hands of government-sanctioned medicine, while the FDA and other government agencies pretend to protect the public by harassing those who offer safe alternatives.
A definitive review of medical peer-reviewed journals and government health statistics shows that American medicine frequently causes more harm than good.
Each year approximately 2.2 million US hospital patients experience adverse drug reactions (ADRs) to prescribed medications. [1] In 1995, Dr. Richard Besser of the federal Centers for Disease Control and Prevention (CDC) estimated the number of unnecessary antibiotics prescribed annually for viral infections to be 20 million; in 2003, Dr. Besser spoke in terms of tens of millions of unnecessary antibiotics prescribed annually. [2, 2a] Approximately 7.5 million unnecessary medical and surgical procedures are performed annually in the US, [3] while approximately 8.9 million Americans are hospitalized unnecessarily. [4]
As shown in the following table, the estimated total number of iatrogenic deaths–that is, deaths induced inadvertently by a physician or surgeon or by medical treatment or diagnostic procedures– in the US annually is 783,936. It is evident that the American medical system is itself the leading cause of death and injury in the US . By comparison, approximately 699,697 Americans died of heart in 2001, while 553,251 died of cancer. [5]