Learn how Homeopathy can help improve brain health and assist in resolving common issues, such as: Dementia, Obsessive Compulsive Disorder (OCD) and Parkinson's Disease. The Mueller's will be discussing The Mueller Method™ and how to apply it to your life to improve your overall brain health. This is an event you do not want to miss! The Mueller Method™ incorporates modern scientific insights into Hahnemann's rational principles of healing. Their Method is supported by years of research, clinical study and results in practice.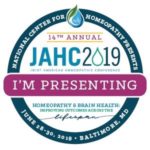 The Mueller Method™ is a flexible, dynamic and extremely effective way for healers to boost their positive clinical outcome! Manfred will also be demonstrating how to improve clinical success by going beyond the single dose remedy method of prescribing. Follow the Muellers as they use, as well as, go beyond 6th Edition Organon strategies to identify, remove and antidote known and unknown causes; use daily dosing; alternate daily remedies and so much more. The Joint Annual Homeopathic Conference (#JAHC2019) will be held June 28-30, 2019 in Baltimore, MD, USA. Strap yourselves in for a fast paced and power packed lecture and be sure to stop by and say "Hello!"
View the Mueller's calendar of events and register for the #JAHC2019 Conference!