Sweat stinks! But it is an essential part of the body's toxin elimination routine. Commercial deodorants, such as those found at your local drug store, work by suppressing or stopping the body's sweat, thus keeping all those toxins inside. In addition, they all contain chemicals like artificial fragrances, aluminum and parabens – the latter two have been shown in studies to cause cancer, neurological problems and Alzheimer's. These toxins are absorbed into the body through the tiny pores in the skin (remember, the skin acts like a permeable membrane on the body). In other words, these chemicals may not be something you want to put onto your body! So what are some natural deodorant choices that work?
And another thing, with a long list of unpronounceable ingredients consider this:
The European Union has spent the past two decades restricting or banning
approximately 1,400 harmful chemicals and ingredients
from personal care products.
In the US, the number of restricted ingredients is at a mere 11.
Make Your Own Natural Deodorant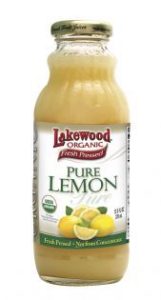 We have long been making our own natural deodorant. I have tried, with success, the following two methods of homemade deodorant:
Bottle Organic Lemon Juice – moisten a tissue or cotton ball and apply liberally to armpits. Avoid using directly after shaving as it may sting a little! Lemon's natural antiseptic and antioxidant properties are a perfect fit to fight pit odors! The nice thing about lemon juice is that if your pits have gotten a bit odoriferous, the addition of more juice GREATLY reduces the stench, leaving you fresh for the next round of chores!
Baking soda & starch mixture -Mix 50% aluminum-free baking soda and 50% either organic cornstarch or organic tapioca starch.
Baking soda, or sodium bicarbonate absorbs and deodorizes, while the starch absorbs, cools and buffers the sometimes harsh feeling of the baking soda. Wanna learn more about how Sodium bicarbonate works to deodorize? Click here. Apply liberally to the underarms. Just put a pinch or so on your fingertips to powder each underarm. Whatever falls to the floor, just rub your feet into it before you put on your shoes to help keep your shoes and feet fresher, too. On hot days, you may find a need to reapply by lunchtime. As with the lemon juice, if your pits have gotten a bit odoriferous, the addition of more powder also GREATLY reduces the stench, leaving you fresh for the next round of chores!
Commercially Available Natural Deodorant Options
For those of you NOT into the DIY approach (or for those who cannot tolerate one or more of the ingredients), I have recently become aware of several more options that are both safe AND compatible with homeopathic treatment – meaning, they do not contain ingredients which can antidote your remedies. Do they work? You'll have to be the judge. No one product works for everyone. Try them and see for yourself.
REMEMBER: When using homeopathic remedies, you will want to avoid ingredients in your personal care products such as MINT, CHAMOMILE, TEA TREE OIL, EUCALYPTUS and COFFEE as they can antidote or interfere with your homeopathic remedies. Strong fragrances (especially patchouli) can also sometimes interfere with treatment – they can definitely irritate those around you 🙂 I can tell you numerous stories of people who became irritable, irrationally angry – even to the point of homicidal, from the smell of patchouli. NO JOKE.
Primal Pit Paste (they also offer trial/travel sizes) UPDATE 4/21/18 LOVE THESE! I've been using them recently in the level 2 strength (the stick) and it's really working! The heaviest day of sweating was unbelievably STINK FREE, yet the natural process of sweating was not suppressed (inhibited) in any way!
UPDATE: 5/23/19: still using this brand and love it!

EO Deodorants (these are all on the scented side)
Now go out and enjoy that warm weather!!
Footnote: We are not receiving kickbacks from any of these products.
READ MORE: