I originally came to Dr. Mueller with a diagnosis of Sjogrens Syndrome and a secondary diagnosis of fibromyalgia.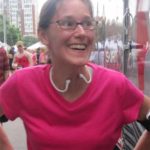 I had six episodes of violent flu-like illnesses over the course of the winter of 2007-08, 2 of which required me to go to the Emergency Room because of dehydration. I had extremely dry eyes, mouth and skin. My pain level was usually, on a scale of 1-10, around a 4, which could head up to 8 or 9 during abrupt weather changes.
Because of the problems with my feet and knees, we had moved to a ranch home in order to help me take care of my 4 young children. Stairs were extremely difficult for me and I could not walk up them without pain. [We had lived in a 3-story home with the 3rd floor being a finished attic we had used as a playroom for the kids.]
I suffered from depression and fatigue as well. Under the care of my primary care physician, I had gone off of all my medications because I felt that they were responsible for my reoccurring episodes. I had even had a colonoscopy to rule out issues, but no one could tell me why I kept getting so violently ill every 6-8 weeks. I had been on four different prescription medications yet was still suffering from symptoms.
Going off my medications did not really change my Sjogren's symptoms or my pain levels. I came to Dr. Mueller because I felt that I literally had no one else to turn to. The medical profession didn't know what to do with me and I had people telling me to go be on the TV show "Mystery Diagnosis". I was skeptical about homeopathy but willing to try.
Homeopathy has changed my life. It has been a miracle, and I truly mean that. After less than a year working with Dr. Mueller, I have no symptoms of fibromyalgia. I can run up stairs, even on rainy days. I have no pain or fatigue when the weather is going to change. My Sjogren's has no outward symptoms and I have what I would term "normal winter" dry issues with my eyes, skin and mouth. I have the energy to play with my children. I feel in control of my life and look with hope on tomorrow and the years ahead.
I have had a few acute situations during my treatment (colds, flu, etc), but all have been resolved quickly and effectively using only homeopathic remedies.
Rachel
Raleigh, NC