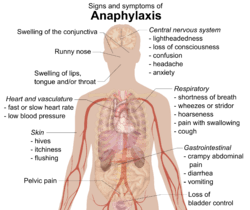 by Manfred Mueller, MA, DHM, RSHom(NA), CCH
Most commonly caused by a substance to which the patient has become sensitized, anaphylactic reactions are systemic allergic reactions. If shock develops, the patient turns pale, faints and quickly becomes unresponsive. If no help is available, it can be fatal. A serious outcome of anaphylactic reactions can often be prevented with Apis mellifica made from the honey bee.
* * * * *
I attended a wedding that was held outdoors, when a little girl suddenly screamed, and her mother yelled "oh my god she got stung by a yellow jacket, and we forgot the epinephrine kit!" The wedding was held in the woods several miles from town and the mother was beside herself. I reassured her and walked calmly to my car to get my remedy kit. I gave the girl a pellet of Apis 30 C under her tongue and she stopped screaming instantly. Fifteen minutes later the incredulous mother pointed out that the girl was completely fine, and didn't even have any localized swelling.