UPDATED October 12, 2017; September 25, 2019. First published in Oct 2016

It's autumn in the Northern Hemisphere and time to think about protecting yourself during "cold and flu" season. As homeopaths, our favorite motto is "an ounce of prevention is worth a pound of cure". And the saying is never so relevant as it is with infectious diseases!
Our goal is to give our family, as well as yours, a safe and effective way to naturally boost their immune system and keep it functioning at optimal levels. After all, getting a major cold, flu or pneumonia is a drag and takes valuable time away from work, school and family. I must tell you that sometimes, you won't be able to avoid infection because certain (and sometimes unavoidable) stressors can lower your immunity. However, we have noticed that people who use our protocols regularly tend to have less severe symptoms, PLUS they tend to have a shorter duration of infection…
Below, I will outline what we do for our family and what we have found works for others, too. There is a little flexibility in the protocol so you can find what works best for you!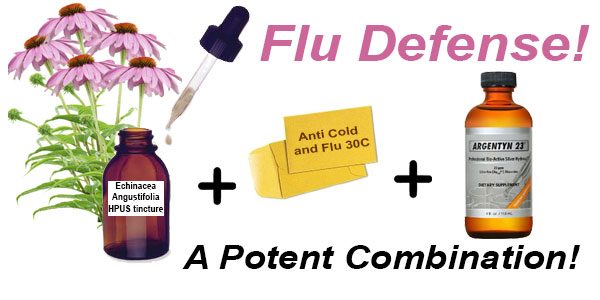 Natural Immunity Protocol
Vitamin C. Boosts the immune system. Ages 0 – 6 get 500 mg/day. Ages 7 to 12 get 1000mg/day. Ages 13 & older can take 2000 – 3000mg/day. Adults take up to 6000mg/day. Remember, Vitamin C chelates mercury and can cause diarrhea at high levels (usually around 10,000mg/day). Experiment with the dosing. Adapt as needed. All dosing will depend on individual tolerances.
1000-3000 IU Vitamin D. Use a high quality drop like the one the Health Ranger sells. Vitamin D greatly improves your immune system, your concentration, your energy and so much more. Drop it into your morning drink, a smoothie or just drop directly onto your tongue. Adapt as needed. All dosing will depend on individual tolerances.
Getting 10-20 minutes of sunshine every day. Use no sunscreens except natural organic coconut oil! (check your facial moisturizers for sunscreens and avoid those that contain them. You need a little sun everyday to keep your Vitamin D levels up!
Colloidal Silver or Silver Hydrosol – Used medicinally for more than 2,000 years and it has played an integral role in safeguarding human health. Hippocrates, the "father of medicine," wrote in his medical texts that silver had beneficial healing and anti-disease properties. He praised silver for its tissue repair and wound healing abilities. Silver has powerful anti-microbial effects, it empowers the immune system and supports the body's innate healing process. Silver is a natural element. It can be found in whole grains, edible and medicinal mushrooms, mammalian milk, spring water, sea water and tap water. Researcher F. Gallyas proved that silver is an essential trace element for the nervous system, as there are receptor sites for silver in myelin neural tissue. A good quality colloidal silver is essential for the medicine cabinet to treat infections, both bacterial and viral, to heal wounds and burns and to support general health. Learn more about the Silver Hydrosol (Colloidal Silver) we use in our practice.
Chlorella. Use only cracked cell wall chlorella (Chlorella pyrenoidosa) from a reputable source. Chlorella mops up mercury from your digestive tract. It also it a good source of protein and trace minerals. Remember, mercury is a major factor in reducing your immunity. Mercury is a terrible poison and it's in everyone's body due to vaccines, mercury amalgam fillings, industrial waste & pollution and from fish & seafood consumption. In women, it is passed to our children in utero and during nursing. It doesn't remove itself very easily from our bodies and will cause harm unless we take steps to help remove it.For children under 1 yr, once they can eat solid foods, we generally give 200-400 mg/day of chorella, crushed into powder & mixed into yogurt or applesauce. Ages 2-5 get 1000 – 1800 mg/day in tablet form, divided between with breakfast & dinner. Ages 6 and over get 2000 – 3000 mg/day, the same way. Adults can take 2600 – 6000 mg/day in tablet form, divided between with breakfast & dinner. All tablet dosing can be substituted with powdered form, as preferred. All dosing will depend on individual tolerances.Chlorella is an integral part of our Mercury Removal Protocol that we use with all our homeopathic clients. You don't need to take additional chlorella if you are already using this protocol. We recommend the protocol be conducted under supervision of an expert.
Echinacea angustifolia MT (HPUS). We now tell people to take 3-5 drops/daily during Cold & Flu Season. Ages 0 to 2 we give 1-2 drops in water. Ages 2-5 give 2-3 drops. Ages 6 to Adult get the full 5 drops. All dosing will depend on individual tolerances.
Elderberry Syrup – Great for influenza! we are lucky to get a nice organic one made by a local herbalist while we're in North Carolina during the autumn months. Most of you will find one either in your local healthfood store or at a local farmers market.

Keep up your homeopathic constitutional treatment

. indefinitely. In addition to specific measures to boost immunity against specific diseases, keeping your whole system in tip-top shape through long term homeopathic treatment is a very effective way to help boost your immunity!
Keep warm – especially your head, ears, neck & adrenals. During the cooler months, especially on windy days, keeping certain areas of your body warm can really help keep your immunity high.But what are adrenals? Our adrenal glands "modulate the functioning of every tissue, organ and gland in your body to maintain homeostasis during stress and keep you alive. They also have important effects on the way you think and feel." When it's cool weather time, keep your shirt tail tucked in, wear longer layers and say "no" to midriff bearing clothes. Your adrenals glands will thank you for it! Learn more about your amazing adrenal glands here. In addition, I make sure to wear a scarf when out and about. I keep hats on the children's heads when they play outside, and if it's close to freezing or below, we wear earmuffs.
Homeoprophylaxis vs. Vaccination
Conventional vaccines have been implicated in causing a host of problems, such as 'hypersensitivity' of the immune system and lead to extreme allergies, autism and death , destroying cellular immunity, and recently vaccinated individuals actually can spread the disease to other people! Did I mention that flu shots are loaded with health destroying mercury in the form of thimerosol? Here's another article on the dangers of vaccines.
As an SAFE alternative to vaccines such as the flu shot (influenza), pneumonia vaccine (pneumococcus) or others, consider this tested and effective protocol of homeopathic immunizations, also called homeoprophylaxis. Homeoprophylaxis is supported by numerous large scale studies such as this one on Leptospirosis virus (and this one),  this one on  Chikungunya virus (chicken virus), one on  Japanese encephalitis, one on Malaria as well as so many others.
Here is our protocol for Cold and Flu Season to help boost your immune system:
EITHER: Take 1-2 doses/week of either Influenzinum 30C or Cold-N-Flu Mix 30C. Some say, the Influenzinum works best for them, while others feel the Cold-N-Flu Mix works better for them. You can also take both in alternation. Do this every week during the Cold and Flu season, typically October through March.
OR: Take 3 doses/day for 3 days of either Influenzinum 30C or Cold-N-Flu Mix 30C. Some say, the Influenzinum works best for them, while others feel the Cold-N-Flu Mix works better for them. You can also take both in alternation. Repeat this protocol every month during the Cold and Flu season, typically October through March.
At First Signs of Infection
Increase your

Echinacea angustifolia

dosing to 3 times per day (in the same amount as before)
Increase your Vitamin C to tolerable levels
Take

Colloidal Silver (Silver Hydrosol)

at doses of 1 teaspoon/5-7 days at first signs and throughout the duration of illness
Increase dosing of Influenzinum or Cold-N-Flu Mix to 3x/day
Hepar sulfuris 30C, Aconite 30C and

Bryonia alba

30C are very common first response remedies to try when coming down with a cold or flu. Take several doses a day. You can look up their indications either in our Acute Materia Medica or online in Dr. John Henry Clarke's more exhaustive work, "A Dictionary of Practical Materia Medica" (just type in the remedy you wish to learn more about). You can also use Clarke's Materia Medica to look up many other homeopathic remedies you wish to learn more about.
What if I Get Sick Anyway?
Most cold and flu-like infections resolve on their own without help. Homeopathic treatment can nevertheless help the body overcome the infections more quickly and with milder symptoms than you would otherwise get. A homeopathic remedy kit with 50 or 100 of the most commonly prescribed remedies is a must for home self-treatment. With a little knowledge, you can pick the right remedy for the situation for self-limiting conditions. You can download a copy of our Acute Materia Medica here.
You may also want to purchase a copy of Maesimund Panos' "Homeopathic Medicine at Home"– a great self treatment reference book. It's a good idea to read and study this book AND our Acute Materia Medica BEFORE you need them!
Urgent Care Consultations
For those who don't wish to treat themselves, you can call (619-741-5795) for an Urgent Care Consultation (which includes up to four follow-up calls/check-ins at no additional cost) (you can also sign up online to become a new client). Additionally, should you or a family member develop a fever or a serious condition, you should not try to self-treat it. In these situations we recommend you contact our office to schedule an Urgent Care Consultation. You may also wish to go to your doctor for a diagnosis, should the symptoms seem severe.
Before Reaching for Antiviral Drugs…
Keep in mind that when you do go to the doctor's office, they are going to "highly recommend" the only tool they have to work with – ANTIVIRAL DRUGS. I'd like for you to read this article by highly respected Dr. Sherri J. Tenpenny, D.O. "Why You Should Avoid Tamiflu" BEFORE you make the decision to take them.
This information in this article applies to all antiviral drugs used for treating influenza such as oseltamivir (Tamiflu), zanamivir (Relenza), or peramivir (Rapivab). Antivirals have many serious side effects including lowering your immune system and death. In fact, most people who die from influenza or pneumonia infections don't die from the disease themselves. They either die from dehydration or from drug side effects (the latter being most common). On the other hand, homeopathic drugs are totally safe, proven effective in 1000's of research studies (and more than 200 yrs of clinical practice) and are cheap!
Where to Buy??
All of these medicaments, remedies and homeopathic remedy kits are available from our practice. You'll receive a discount of 15% when you order 2 of more pieces of the Immune Bundle. Choose from:
Influenza Mix 30C
Anti Cold-n-Flu Mix 30C
Echinacea angustifolia HPUS tincture
Colloidal Silver (Silver Hydrosol)
Call 619-741-5795 or email us for more details.
We Wish You a Health Cold & Flu Season!